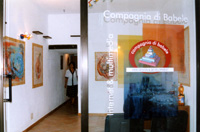 Babele Arte Real Galley is the place where bit become atoms, or rather the place where the window open to world-wide by web site become live and real.
Show room will managed by an artistic committee, that make a selecion of the artists and, annually, organize a calendar of exhibition consisent with the intent of the association and with different and definite artistic adress.
Intent of Babele Arte is the realization of collective exhibition, where put on par foreing and territorial artists.
MODALITY OF PARTECIPATION:
The artists interested to show must comunicate to Babele Arte editorial office their interest. Babele Will decide about your request at its free judgement. If your request is for a collective exhibition, you can specify which artists you like to link at show, to avoid disagreeable approachs of different style of artworks, incompatibles for a collective show.
Solo exhibition _ 800 euro _ Duration 15 gg
Group exhibition for 2 artist _ 400 euro each artist_ Duration 15 gg
Group exhibition for 4 artist _ 200 euro each artist_ Duration 15 gg
QUOTE ALSO INCLUDE THE PUBBLICATION OF A PERSONAL EXHIBITION ON VIRTUAL GALLERY OF www.babelearte.it. THIS EXHIBITION WILL BE ONLINE ON THE HOME PAGE OF THE WEB SITE FOR A MONTH AND AFTER ON THE EXHIBITION'S ARCHIVE OF BABELE ARTE.
Artist interested only on virtual exhibition in one of ten room of our virtual gallery can send his candidature with the same modality. Cost of virtual exhibition for a month: 130 euro.
How to submit the candidature:
by mail to this address: arte@babelearte.it

by ordinary mail to:
Babele Arte
via Roma, 228
29100 Piacenza (Italy)
phoning to Babele Arte Editorial office:
+39 0523_324729